boat washing tips and locations
We cannot mention this enough, but anglers and recreational boaters are the first line of defense in the fight against AIS.
Every boat operator should inspect their boat for attached mud, vegetation or animals before and after each launch. Pay close attention to the areas highlighted below.

Boat owners and operators should powerwash their boat as often as possible. When possible, allow your boat to completely dry between trips. In South Dakota this usually takes 2-4 days in the summer months and at least a week during the cooler months. Here are some tips to make powerwashing your boat efficient and effective.
If AIS are attached or if a boat has been moored in AIS containment waters for 3 or more days, boaters are required to decontaminate with a hot water power wash. Quagga Mussels, Zebra Mussels and Asian Clams are very small and difficult to see on boats and trailers. A heated pressure washer is necessary to kill any remaining AIS not removed by pressure washing. High pressure-hot (140 degrees Fahrenheit) water should be used on the hull for 10 seconds on every surface using overlapping passes. For interior compartments such as live wells, bilge, motor intakes and ballast tanks, low pressure and slightly cooler (120 degrees Fahrenheit) water should be used for 90 seconds to flush the compartments. If hot water is unavailable, all surfaces and compartments must be thoroughly flushed and the boat should be allowed to completely dry for 5-7 days prior to use.
Visit https://www.youtube.com/watch?v=QjK18vKponQ for additional decontamination tips.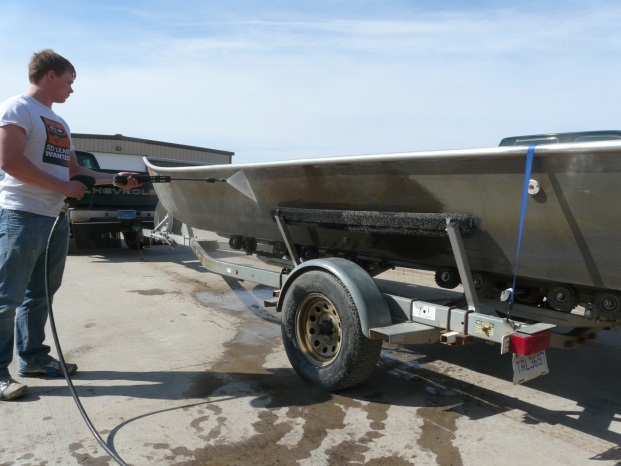 Work from top to bottom and bow to stern on one side.
Repeat the procedure on the other side of the boat.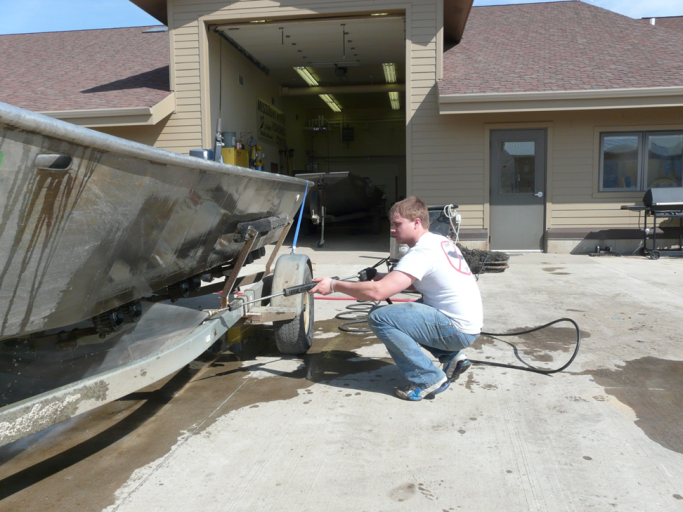 Be sure to wash the rollers or bunks on the trailer.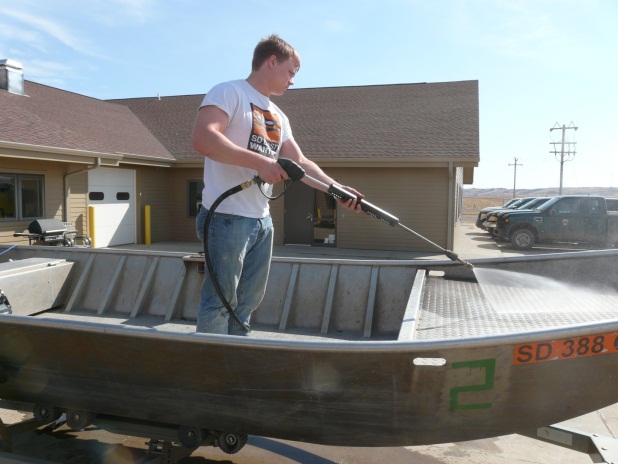 If possible, wash the interior of the boat and rinse all compartments that may hold water.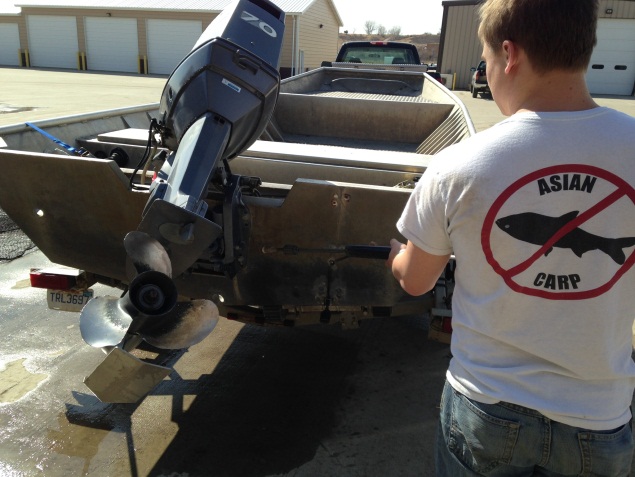 Rinse the transom area with low pressure water to prevent damage to the motor and/or electronics.
The South Dakota Game, Fish and Parks partners with the South Dakota B.A.S.S. Federation and private car washes to provide a list of boat wash locations that have lit, pull-though bays for easy access. Hot water may not be available at these boat washes. If your vessel has been moored in containment waters for 3 or more days or if AIS are attached, your boat must be decontaminated with hot water.
| | | |
| --- | --- | --- |
| City | Business | Address |
| DeSmet | Mr. Bill's Car Wash | 109 4th Street SW |
| Estelline | Dale's Sinclair | 402 State Avenue |
| Fort Pierre | Shur Shine Car Wash | Deadwood Avenue |
| Hartford | Sunnyside Car Wash | 201 East Highway 38 |
| Madison | Super Wash | 304 2nd Street NE |
| Milbank | Eastside Car Wash | East Highway 12 |
| Milbank | Westside Truck and Car Wash | 504 24th Avenue |
| Mitchell | Mega Wash | 1905 North Main Street |
| Mitchell | Mega Wash | 800 East Kay Avenue |
| Mitchell | Sportsman's Car Wash | 601 East Spruce Street |
| Pierre | Super Car Wash | 1100 North Garfield Avenue |
| Pierre | Truck-n-Car Wash | 1513 East Wells Avenue |
| Rapid City | Arnie's Pressure Wash | 3100 South Highway 79 |
| Rapid City | Parkway Car Wash | 206 East Blvd North |
| Rapid City | Zaug Wash | 612 Timmons Blvd |
| Redfield | Appel Oil Company | 833 West 3rd Street |
| Sioux Falls | Clean Finish Car Wash | 515 South Sycamore Avenue |
| Sioux Falls | Shop'n Cart Car Wash | 4309 East 12th Street |
| Sioux Falls | Superwash - 12th Street | 2000 West 12th Street |
| Sioux Falls | Superwash - Mariod Road | 801 South Marion Road |
| Sioux Falls | Wash World Car Wash | 321 North Cliff Avenue NE |
| Vermillion | Henderson's Ultimate | 821 Princeton Street |
| Vermillion | Royal Car Wash | 801 Stanford Street |
| Watertown | Cenex C Store | East Highway 212 |
| Watertown | Super Wash | 501 14th Avenue NE |
| Watertown | Westside Car Wash | 715 3rd Avenue NW |
| White River | Gillen's Station | North 1st Street, Highway 83 |
| Yankton | Classic Car Wash | 600 West 23rd Street |